The Russian Cutlets - The Russian Style Meat Balls
A Busy Family Cooking Recipe
Warning
: include(myad.php): failed to open stream: No such file or directory in
/home/learncod/healthstairs.com/russian_cutlets.php
on line
72
Warning
: include(myad.php): failed to open stream: No such file or directory in
/home/learncod/healthstairs.com/russian_cutlets.php
on line
72
Warning
: include(): Failed opening 'myad.php' for inclusion (include_path='.:/opt/alt/php54/usr/share/pear:/opt/alt/php54/usr/share/php') in
/home/learncod/healthstairs.com/russian_cutlets.php
on line
72
I work full-time as a Software quality analyst, I have a tiny web publishing business and I am a dedicated cook in my family. I hate cooking because I have to cook when it is necessary to cook and not when I am in the mood for cooking. If I were free to cook when I want to, I would probably love cooking.
I joke: "If you cook very tasty stuff, then it would be eaten for one day and the next day you have to cook again. So...? Cook food that tastes bad! This way you will have a break while food, which no one likes, is not eaten completely"
I am kidding. I am going to share with you a recipe that produces a delicious dish. Buy 3 pounds of ground beef. It should not be exactly 3 pounds. Actually, I never measure or weight components of which I prepare food. I estimate amount. Take approximately 3 pounds of ground beef. You can use ground chicken as well or a mixture of beef and turkey, beef and pork, or beef and chicken.
Try Thyroid Complex, with natural sources of Iodine for Thyroid support. 50% off
Usually, I buy ground beef at Publix. The quality taste of the end product you cook depends mainly on ground beef quality. The best of course is self-made ground beef from your own cow. My older brother, who lives in Siberia (Russia ) has a little farm and two cows and I have seen him milk his cows. He has a PhD in Physics. Not every American with PhD in physics can do that. I am not kidding. Please see the picture. My older brother Yury does not have problem with quality taste of beef. His cows eat grass... Hover your mouse over a thumbnail to see a large image.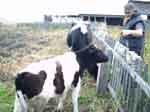 My brother Yury with two his cows
Well, I have no choice. So I buy ground beef in a supermarket. There is no direct correlation between cost and taste. You may buy the most expensive brand and it will not guarantee good quality taste. Let's hope that we will be lucky.
To start, we will place about 3 pounds of ground beef in a pot and add 2 eggs. Place a piece of bread in a cup, pour a half of a cup of milk, and stir bread with milk. Add bread to the pot. Cut one or two onions. I cut it by hand. First, I cut an onion by half, and then I cut each half into small pieces, as small as I can. Add the onion to the pot. Add salt; optionally add black ground pepper, garlic, Italian seasoning etc. See picture

Now stir all components thoroughly. Take a pan, pour in a measure of canola oil. Do not worry about calories now. Later, I ´ll tell you a secret how to make it low fat. Put a pan on the oven, set heat to medium. Start to make cutlets and when the oil becomes hot, place the cutlets in the pan. See picture 2. Cover the pan.

Fry the cutlets for 5 minutes, open the pan and turn the cutlets over. Close the pan. Again, fry them for about 5 minutes. Open the pan and try to move each cutlet to make sure it is not stuck to the bottom of the pan. Again, cover the pan. Set oven to low heat. Check after 5 minutes. The juice should appear. Move each cutlet to know it is not stuck. If everything is OK, cover the pan and leave it on low heat for 30 minutes. It is very important, before you leave them make sure that:
1. Cutlets are not stuck to the bottom.
2. Heat is not too high.
3. The pan is covered.
In 30 minutes, while the oil still is boiling, using a fork, pick up each cutlet and put it in the clean, dry, pot. This way, all oil will be left in the pan. If you leave cutlets to cool in the pan, they will soak the oil inside.
You are done. Use steamed or fried vegetables, or mashed potatos as a side dish.

Affiliate Disclosure: I may get comission, when you purchase products or services through links on my website.